NTT Data (NDFS) build digital insurance platforms to help companies manage end to end insurance activity, from building a product to managing a customer.

Insurance platforms are traditionally very difficult to use. Mòr worked with brokers, insurance agents and insurance customers for 2 years - testing, thinking, designing, building and improving.

Through mapping the activity of insurance professionals and insurance customers we were able to think differently about the process and simplify it. The interface is based on a day in the life of a broker, agent or customer.

The solution is white labeled and fully configurable, so an insurance company can use it for every activity to do with insurance. All without hard coding.

Our customer experience and design thinking techniques helped NTT Data NDFS to win contracts with over 10 leading insurers across Asia and Europe.
About NTT Data NDFS
NTT DATA Corporation is a Japanese system integration company and a subsidiary of Nippon Telegraph and Telephone NTT, one of the largest companies in the world.

Part of the NTT Data group, NTT DATA FA Insurance Systems (NDFS) is a leading specialist in IT solutions and services provider to the Insurance Industry.

Since inception, the company has been focused solely on providing software applications and IT services across different lines of the Insurance and Reinsurance businesses.

They have many products including a complete Channel Partner Management System for insurance companies.

This allows insurers to connect customers, agents and brokers to a portal that they can use to connect to the back office systems.

The NTT Data digital insurance platform allows people such as insurance brokers, agents and insurance customers to manage on the move.
Make an extremely complicated insurance system easy to use for all. 
The interface must allow users to build products and administer customers, products, portfolios and more.
Catering for different types of business from personal travel insurance to commercial marine insurance.
Considering different user types including insurance customers (personal and commercial insurance), insurance professionals, insurance companies and parties involved with claims. 
Create a working prototype for user testing. Making the interfaces work on any device.
Catering for multiple brands and products.
Delivering Angular 2.0 templates.
Setting up a customer experience COE with the team in Bangalore.
Hiring User Experience Consultants and Designers into the team.
Helping the team utilise design thinking and user centred design in their processes.
Through prototyping in
Axure
we simplified the screens, we then stopped repetitive processes, used auto complete, and hid things that weren't needed. We added push notifications to inform users when they needed to do something and based the site around a core principle. This principle for users was 'a day in the life', where we went through every process and information required at each step of the process to ensure maximum efficiency for the user.
We also made the digital insurance application fully mobile responsive, and built it in the latest technologies including Angular JS 2. This gave NTT DATA the ability to produce sites specifically for the particular user group (insurers, agents, brokers) with a company's particular branding all through a content management system. Meaning no hard coding was needed to launch new applications.
At the same time, we ran presentations, we interviewed and helped NTT Data in Bangalore interview so they could build this capability in-house. We also trained 5 of their team in Axure and rapid prototyping.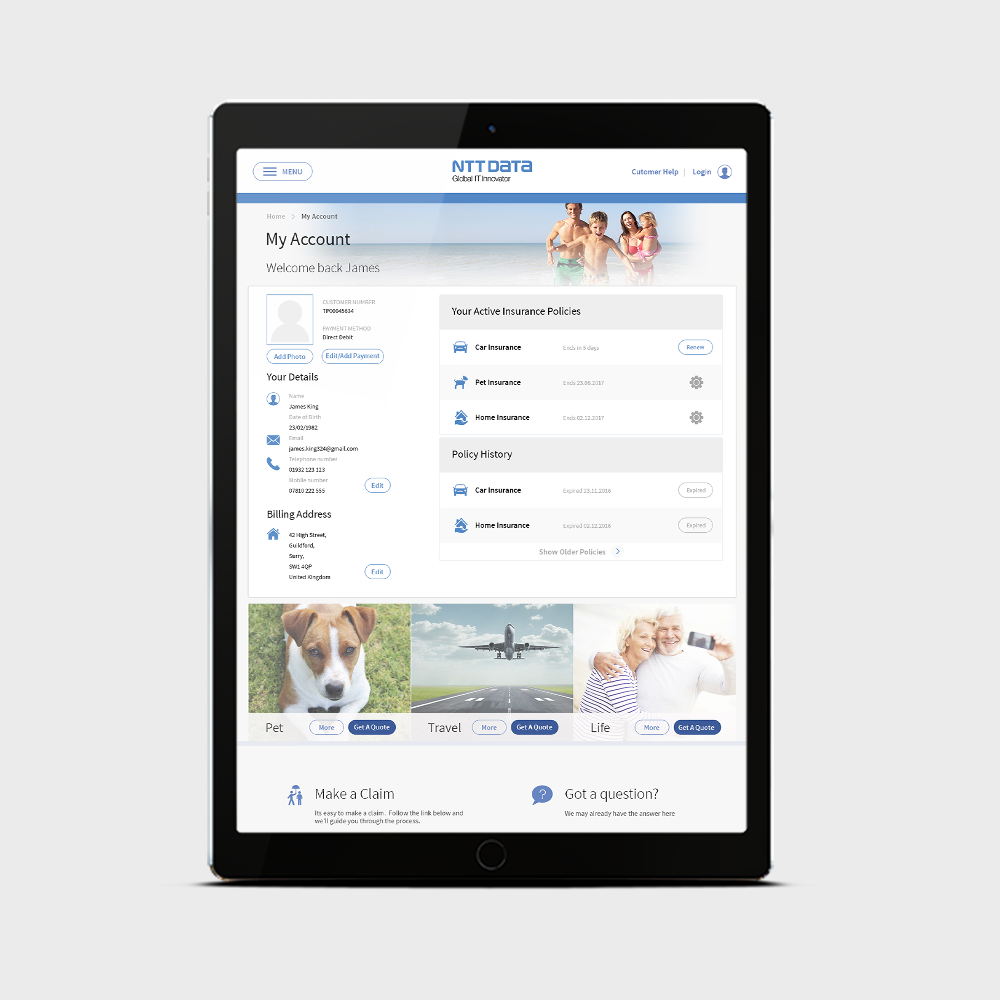 Our acquisition and member templates for insurance brokers was independently tested and returned excellent results for usability across devices.

Our product helped NDFS secure 12 sales in 2 months using our templates as sales material and implementing our system.

We decreased training time by 80% and increased completion rate by 60%.