Recently, in the WWDC 2020 (Worldwide Developers Conference), Apple announced iOS 14, which is one of the biggest software releases for Apple users. iOS 14 in iPhone promises power-packed features along with changes in the iconic elements, including a compact user-interface. Now that's something new for the iPhone users. It's sporadic for Apple to make any fundamental changes in the UI, but this time with its latest release iOS14, Apple has kicked things off really hard.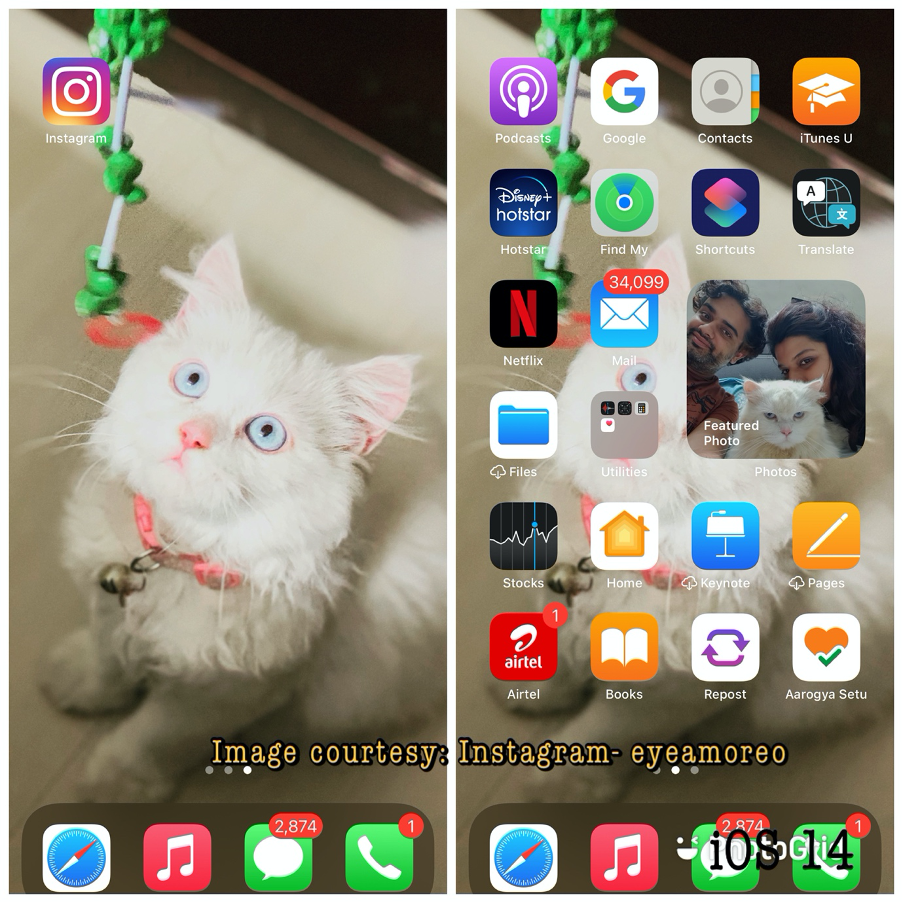 Let's take a deep-dive into all the iOS 14 revamped core elements and the major cool features in iPhone to be brought in later this year:
1. App Library
If you're like me who loves to have many apps on the phone, this iOS14 update will be your absolute favourite. A lot of apps leads to a lot of pages on the home screen. Thus, making it hard to find an app when you need it. iOS14 now comes with an App Library which intelligently organises your apps in different folders automatically without you doing a thing.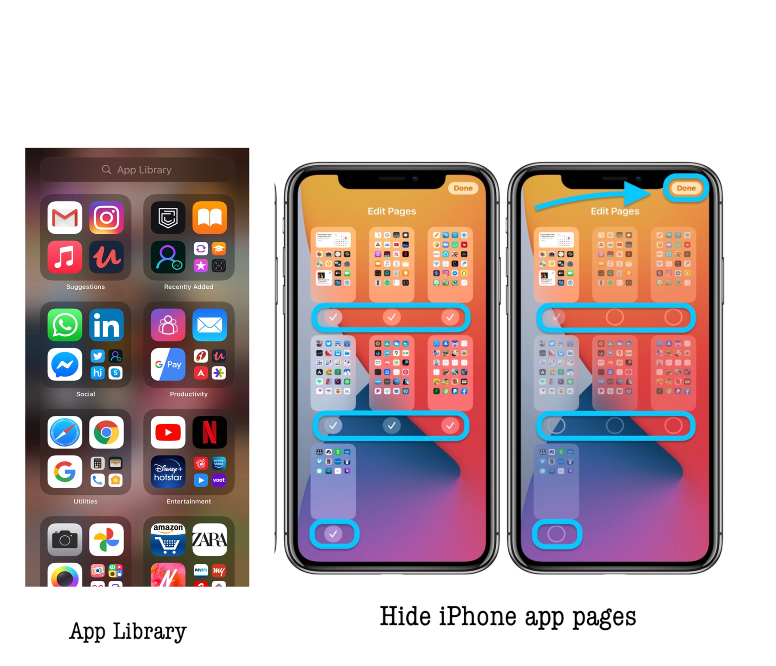 Image courtesy- Meenu Bahuguna
You can find this App Library at the end of your home screen pages. Apps you use most often will be tagged on the top. There is also an option to hide pages. You can declutter home screen and make it easy to get to the App Library by just keeping a page or two and hiding the rest without deleting any app.
2. Widgets on Screen
In iOS14 iPhone, widgets can be resized and customised as per your preferences. You can now drag and drop your favourite widgets on the home screen in between your apps. Using a feature called Smart Stack, you can even let your favourite widgets change automatically on your home screen throughout the day. So from getting breaking news to updates on the stock market, all will be right at your fingertips.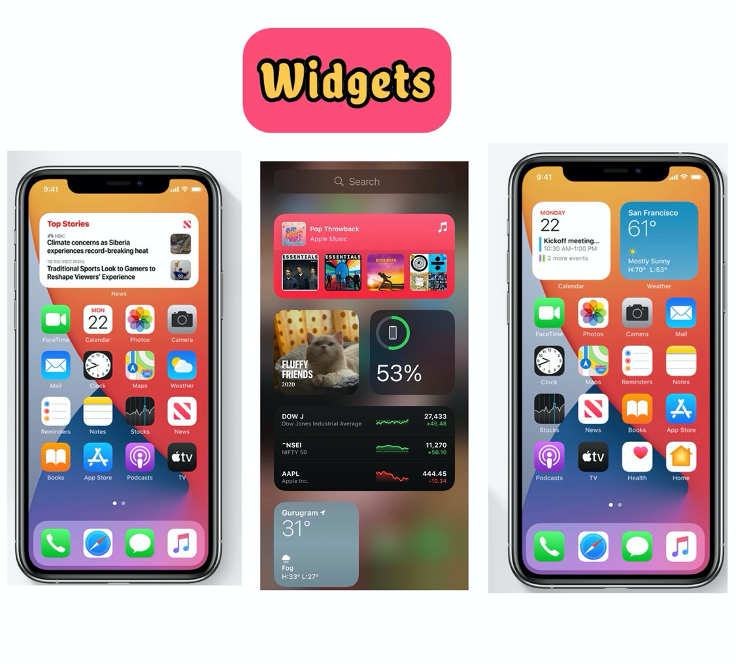 Image courtesy- Meenu Bahuguna
Note for developers: Developers can create their own widgets using the WidgetKit framework and a new widget API for SwiftUI. Learn more about the WidgetKit here
3) Picture in Picture
Now, what took Apple so long to get this one to the iPhone is a mystery indeed, but finally, it's here! With iOS14, you can now access apps while talking over the phone or accessing another app. I use it (have been an early beta user for iOS14) for writing reviews in my notes app while watching my favourite shows on Netflix. Both apps work simultaneously and seamlessly. Just double-tap on the video or swipe upwards from the bottom of the iPhone to activate this feature. Another good use of it can be during the Facetime call, while you do other things on your iPhone.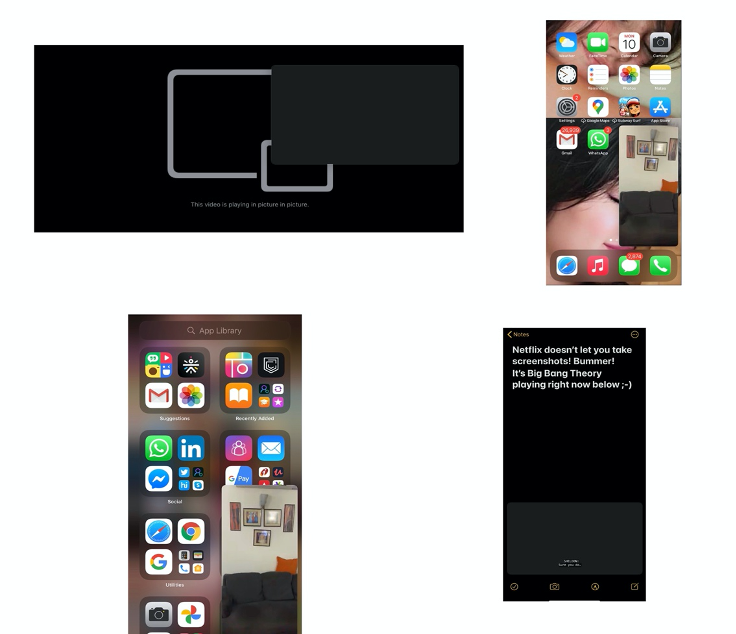 Image courtesy- Meenu Bahuguna
Note for developers: Picture in Picture works with apps that play video content. For the third-party apps, you'll have to implement support for the feature.
4) New Memojis
 The staple accessory of millions during this pandemic- the 'face masks are now available in iOS 14. With that, you also have more age options and three brand new Memoji stickers—a fist bump, virtual hug and blush.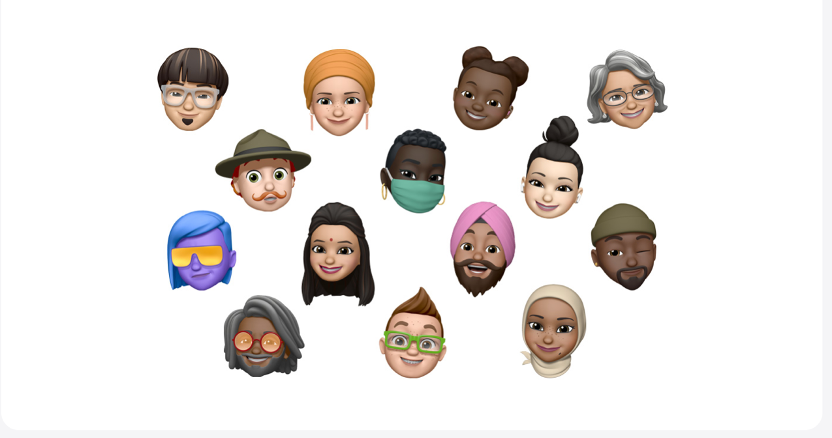 5) Better Group chats
iOS 14 has been focusing heavily on improving the interactive experience for its users. Group chats in iMessages will now have an inline reply option to have those 1:1 conversations in between a group chat.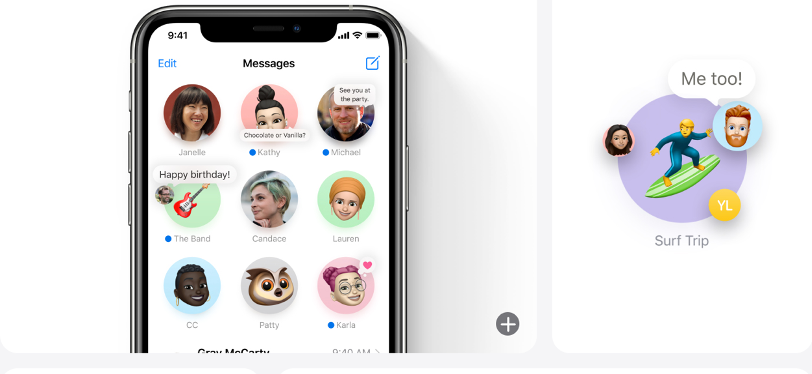 You can give a visual identity to the group by setting up a group picture/memoji/emoji for your group. You can pin up to nine conversations on the top for quick access and choose to be notified when you are mentioned in the chat.
6) Intelligent Siri
 Siri (finally) gets a major facelift in iOS14 with a new compact UI. Instead of taking the entire screen, Siri's listening prompt has got smaller. Siri now comes equipped with 20x more facts, answers to complex questions and an ability to send audio messages and take dictations. Oh yeah! Siri is now available in new voice in several additional languages (do look out for yours in the Settings).
7) Translate app
Suppose you are travelling abroad and need a language translator buddy by your side (without worrying about an internet connection). In that case, this feature will undoubtedly come handy for you. In iOS 14, you get a built-in translation app that works entirely on-device, allowing you to use it entirely offline. Type in the text or speak on the microphone and get the audio translated into the language you desire to communicate in. It supports 11 languages.
8) Maps
Apple Maps might have got ignominies start, but through iOS14, Apple Maps are promising to bring a massive difference in the precision, accuracy, and reliability of Maps.
There are some exciting new features introduced in maps. If you've an electric car that's synced to your iPhone, Maps can track your current charge and let you know about the compatible charging stations on your route. For cyclists, cycling directions are integrated into the iOS14 maps. It takes into account the steep passages, busy roads, elevation, bike lanes, and many other details relevant to the riders. Maps will have 'Guides'. Created by some of the trusted brands (Lonely Planet, AllTrails, The Infatuation. etc.) Guides can you curated recommendations for the best places to dine-in, travel, shop, or to explore cities around the world.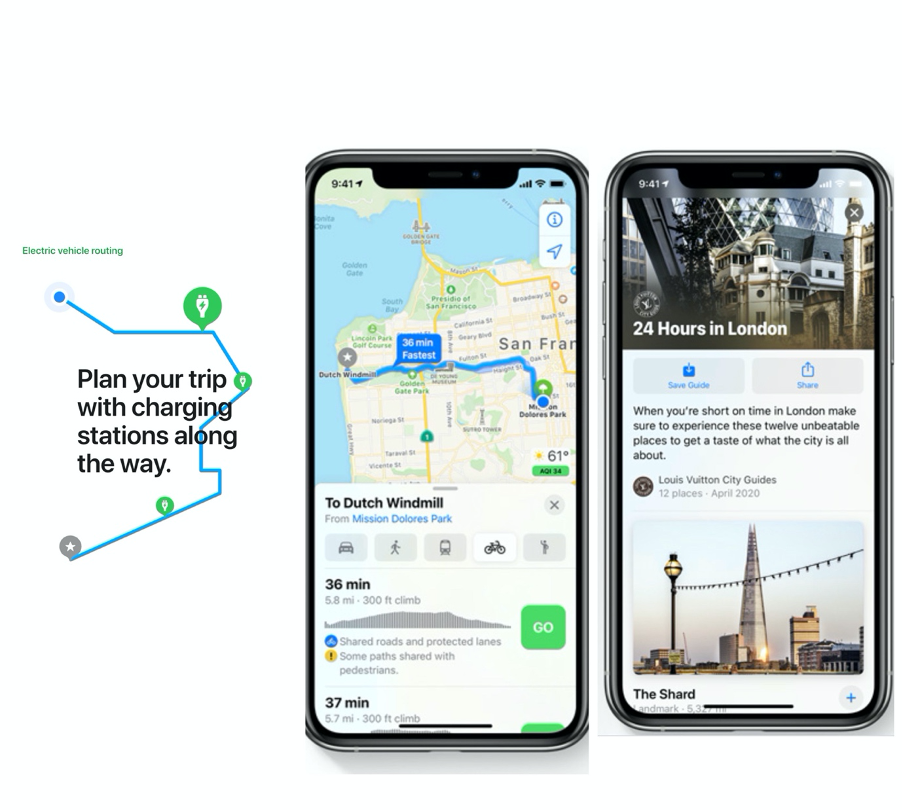 Unfortunately, some of these features are currently limited to a handful of cities that include San Francisco Bay Area, Los Angeles, New York City, Shanghai, London, and Beijing.
9) Digital CarKey
Your iPhone can make the bulky key fobs of cars redundant. With Digital CarKey, you can use your iPhone to lock, unlock and start your car. Tap your iPhone against the door handle to open it and then once inside; you can put the iPhone on the wireless charger pocket and press the ignition button to start the vehicle.
For the security purpose, If you miss your iPhone, you can remotely deactivate your car keys from iCloud. The new 2021 BMW 5 car series will be the first one to support CarKey. Connectivity with different cars is still being worked on.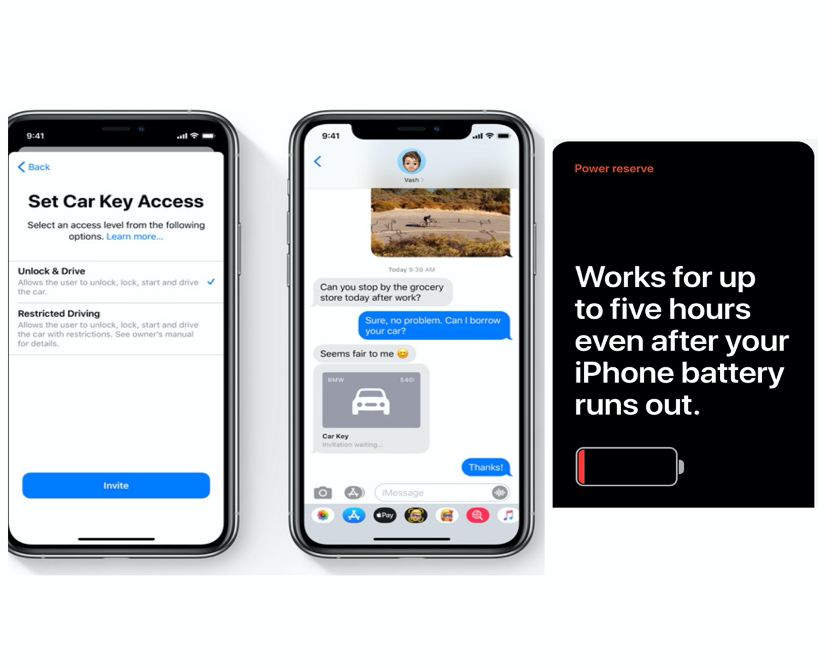 10) App Clips
App Clips are lightweight apps that you can use without downloading them on your iPhone. For example, you want to take that scooter for a spin, but you don't have an app to unlock it. Just scan the app clip code (a QR code, a dedicated App Clip code or NFC tags) on the scooter, and your iPhone will open its App Clip for you. Use the app clip the way you would use the usual app. The app stays as long as you need it and doesn't clutter your home screen. It's a smart way to experience more apps in the Appstore without downloading them.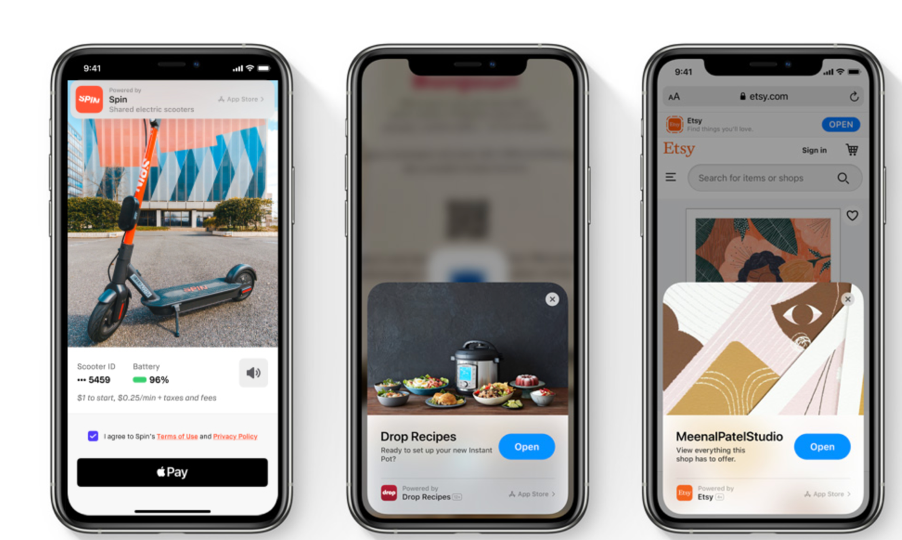 Note for developers: App clips gives a whole new way to tap into apps. Developers can create app clips taking the small part of the apps. It's developed in the same Xcode project as by the full app using the iOS SDK. However, as app clips are supposed to be opening quickly, it should be less than 10 MB. Tools for creating the app clip codes will be available later this year.
Use Xcode 12 beta to build your apps for iOS 14.
Apart from the above features, iOS14 comes with many other enhancements like minimised phone call pop up, wallpaper in CarPlay, redesigned Game Center, password monitoring in Safari, web translations, spatial audio to AirPods, mirror photos taken on the front camera, auto-play music, and many more. iOS14 beta version is currently available for download. It's expected by Apple to have a full-fledged public release of iOS14 in between 14 and 18 September 2020.